****For Valentine's Week Only get

No More Crumbs
2 for $20 + Autograph + FREE Shipping!****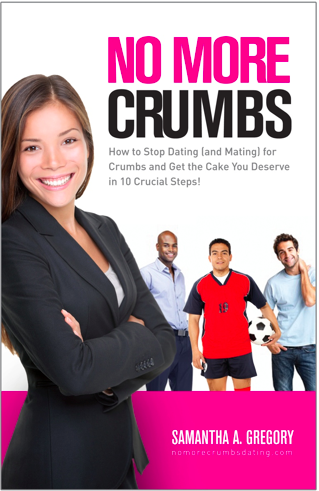 About No More Crumbs
Part relationship memoir, part how-to, No More Crumbs is the story of how Samantha Gregory learned the hard way that dating with a broken man picker can be devastating. She chronicles her dating / relationship story and shares her 10 crucial steps for dating smarter, not harder so you will attract healthier men and get the relationship you deserve!
About Samantha Gregory
Samantha Gregory is a women's lifestyle strategist who helps women Unleash Their Unstoppable Power. She helps mid-life women discover their USP (Unique Soul Purpose, Power, and Profit Generator) and get their sexy back. Ms. Gregory is also an author, empowerment speaker and coach, entrepreneur, trainer, and mom. She lives in Alpharetta with her son and has a college-aged daughter. Her purpose on the planet is to encourage, inspire, and empower women to recognize their worth, embrace their freedom, and attract love (and wealth)!