Samantha Gregory encourages, inspires, and empowers corporate, community, and conference audiences to ignite their confidence and be unstoppable despite setbacks, heartbreak, and tragedy.
***Click to download my Speaker Media Kit to learn how I can speak for your organization.***
Samantha Gregory works with individuals, women, and girls who want to reach a higher level of success in their personal, professional/academic, and spiritual lives. She teaches them how to get rid of their victim mentality and move forward successfully.
It is her pleasure to come and speak to your group about how to live powerful lives and ignite their confidence in relationships, career, business, parenting, self-development, and social change.
Whether it is a keynote, workshop, traditional seminar, webinar, tele-seminar, or radio, she is available to share her experiences and expertise with your audience. They will come away smarter, wiser, and excited about making definite changes in their lives.
She speaks for churches, women's groups, associations, girl empowerment groups, colleges, and your organization.
Download the Speaker Sheet Below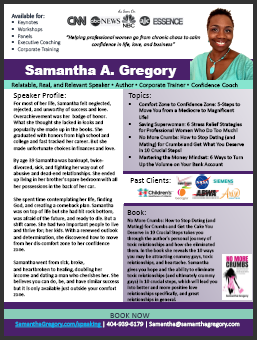 Bio:
Samantha Gregory lived through domestic violence, chronic depression, low self-esteem, and single motherhood!
Today she is happily discovering and living the life she was born to live. Her greatest desire is to encourage, inspire, and empower women and teens. She wants to show them the way and tell them the truth about their greatness, their genius, and their future.
She firmly believes we don't have to barely survive, but we have the ability to thrive!
Contact her today to answer questions about speaking or facilitating a workshop for your organization at samantha@ liberatedladymedia.com or submit a speaking request.