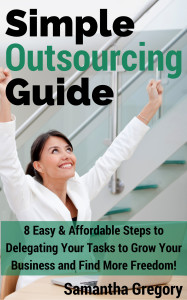 The Simple Outsourcing Guide: 8 Easy & Affordable Steps to Delegating your Tasks to Grow Your Business and Find More Freedom is for the solopreneur, mompreneur, and entrepreneur who is ready to take their business to the next level.
You can't afford to be the bottleneck in your business so why not learn how to outsource your business task in an easy and affordable way.
This guide shows you step by step (with screenshots) how to determine your business needs, where to find affordable help, how to write a job description, tips and tricks to attract the best help, and how to manage your staff.
Includes expert advice from key business people and an inside look at a coaching session.
Download this ebook today to get more freedom tomorrow!
Inside this book you will find the following:
Introduction
Step 1 – Decide why you need to hire an assistant
Step 2 – Finding Great Freelancers
Step 3 – Set your budget
Step 4 – Write and Post your ad
Step 5 – Review the applicants against preset criteria
Step 6 – Choose and Email Top Candidates
Step 7 – Hire and Work with your New Assistant
Step 9 – Rinse and Repeat
Recommended Resources
Bonus Section