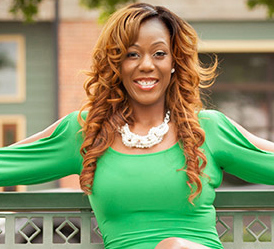 In this brilliant conversation with Tiffany Kelly we discuss the importance of taking care of yourself. Overwork, overstress, and anxiety took her to the brink of total collapse. She began to focus on her health to lose weight, get off blood pressure medication, and restore her total health. 
Tiffany is a mind, body, and power coach who inspires women to lose the weight, shift their mindset, and get their life back.
Guest Bio
Tiffany Kelly is native New Yorker from Bedford Stuyvesant Brooklyn. Her mom calls her a born leader. Tiffany was destined to be an entrepreneur that would help people. 
Tiffany loves her career as an educator, but she had no idea that God would use her experiences to give her a new assignment which is helping women achieve weight-loss success. After losing over ninety pounds and realizing the power she had within (the spirit), Tiffany decided to create a company that would help women loose the power that God has given each woman to live the healthy life they have always wanted (2 Timothy 1:7, For the Spirit God gave us does not make us timid, but gives us power, love and self-discipline.) without limits! Tiffany helps women discover what's keeping them from achieving their weight-loss and fitness goals and helps them begin the journey and maintain through goals setting, getting rid of limiting beliefs and replacing them with positive self- talk.
Tiffany named herself the Mind, Body and Power Coach. She often says she is more than a weight-loss coach because her coaching is spiritually centered which helps women strengthen their spiritual foundation which helps with a successful journey. Tiffany helps women realize that without God nothing is possible. He gives us the power God to do all that He has purposed for our lives.
Then she gets to the weight-loss coaching. She believes that power God gives us powers our mindsets for permanent change.
You can visit Tiffany's website at www.loosethepowerwithin.com and download her Free ebook: 
Lady of Power: Download the  Mind, Body And Power Inspirations To Fuel the Inner You on Your Weight Loss Journey!
On Facebook at www.facebook.com/tiffany.wrightkelly
On Twitter at www.twitter.com/tkellylpw
On Instagram at www.instagram.com/tiffanykelly_lpw