Click to call and
book Samantha Gregory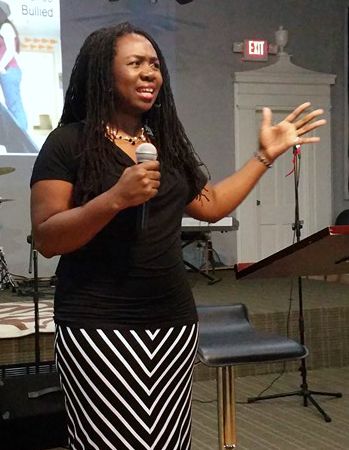 Samantha is an inspirational speaker who delivers practical messages to audiences!

A few of the companies Samantha has motivated
Thank you for sharing your story. That was powerful and look at you now Strong, Beautiful and Independent woman. Your story has gave me hope for my loved ones who are going through what you experienced in the past and I hope they will have courage to stand up and be strong as you are. Stay Blessed.
Ginah T. 
---
I am…encouraged by your tenacity, courage, and selflessness in sharing your story and enlightened spirit of love for me and everyone! Thank you for responding to your calling!!!
Lynn E.
---
When I heard your story I was touched by your determination and drive to protect your children and yourself. A lot of people won't tell there story even if it could help someone else for fear of the way people will view you afterwards. You truly are guided by the Holy Spirit and not self. Keep allowing the Holy Spirit  to be your guide so that other women  can become victorious through there trials and tribulation as well.
Gabby H. 
5-Star Rated Book by Samantha Gregory
No More Crumbs: How to Stop Dating (and Mating) for Crumbs and Get the Cake You Deserve in 10 Crucial Steps! takes you from crumb snatcher to cake connoisseur. This book shows you how to change 10 key things in your life so you start seeing results in less than a month. You will:
✓    Discover the #1 technique to make quality men notice you
✓    Learn the 3 Truths that will make you instantly more attractive
✓    Find out how to use your intuition to successfully guide every relationship you have
✓    Learn how to get the cake you deserve instead of accepting nasty old crumbs
✓    Get actual scripts that show you what to say in different circumstances
Take this book home and learn how to move from crumbs to cake in 30 days or less!